After our underwhelming visit to La Paz, we caught a bus for the short hop over to Lake Titicaca. To access the heart-stoppingly beautiful bay you have to hop off the coach and on to a ferry, whilst the coach is pulled across the water by a tug. Once across you wait for the coach and jump back on for another hour's ride to Copacabana. It was one of the more memorable modes of transport that we took on the trip!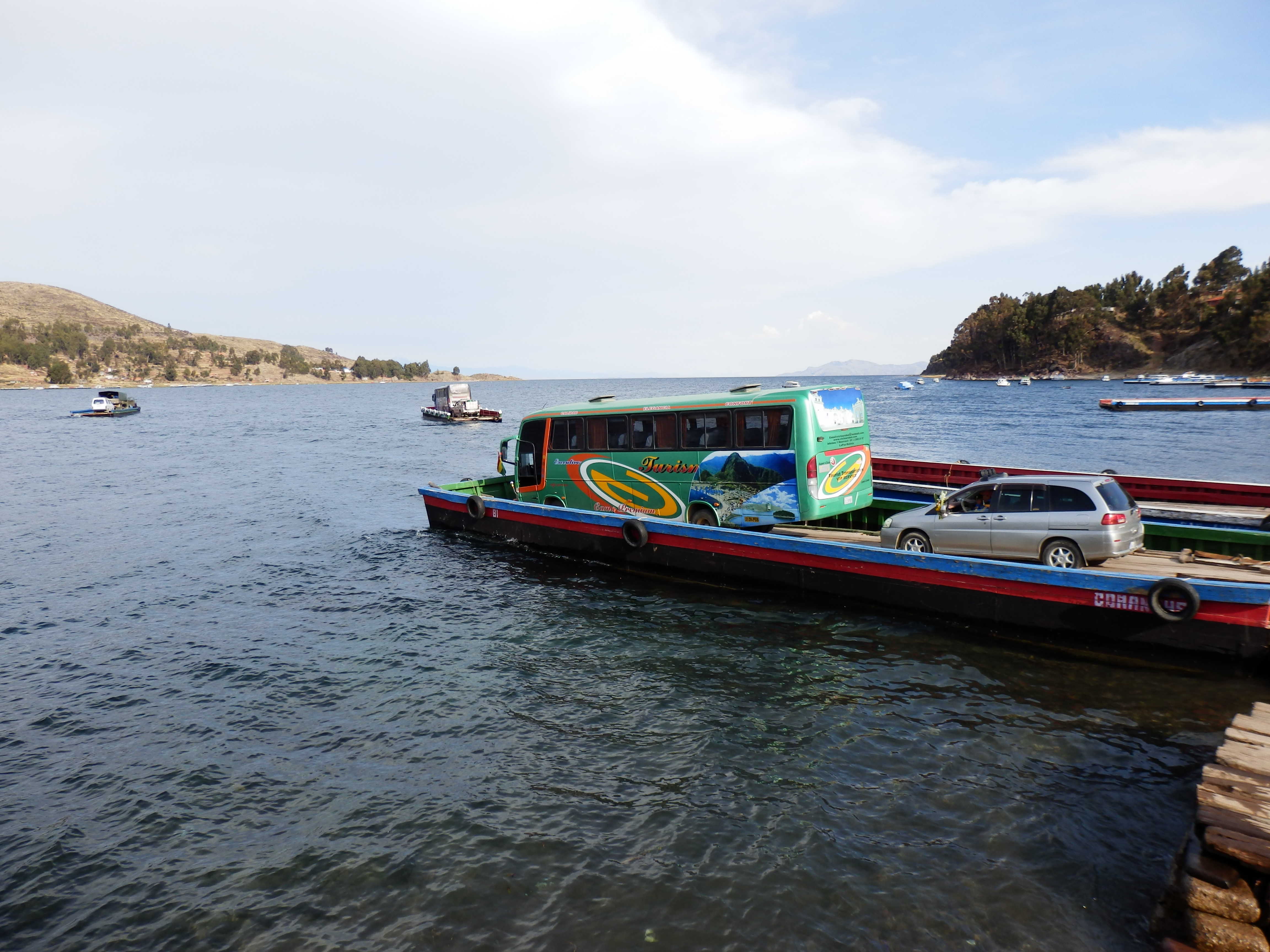 Copacabana
We chose to stay the Bolivian side as we'd heard it was more pleasant than the Peruvian side. Having spent three days in Copacabana, I can't say I agree with other people as I really didn't like the place. The restaurants are pretty awful, we stayed in a horrible hostel with no natural light and it was like a ghost town, since we were very much out of season.  I suspect it might be nicer when there are more visitors, but if I was to go back I think I'd visit somewhere else on Lake Titicaca.
Things to do in Copacabana
The town of Copacabana has a main square that is relatively small but dominated by a rather impressive basilica. It's free to visit, you can walk around the church as you please and if you go at the right time you can see the sculpture of Virgen de Copacabana.
Cerro el Calvario dominates the town and it's where the best views of Lake Titicaca can be found. I didn't climb it as I struggled to get half way up the hill, but Jonny – ever the gazelle – bounded to the top and returned hours later with hundreds of incredible photos. I sat and looked over the water, watching other people climb the steep hill – and it was here that I had one of my most memorable encounters.
I watched an elderly man make the climb to the plateau where I was sat whilst using crutches, which was a feat in itself. He was struggling to get some things out from underneath a stone table and so I offered to help in my barely passable Spanish. We got to talking as I helped him find what he needed and lay out the table, and I was delighted that we could understand each other relatively well. He told me that he was making an offering to Pachamama to give him better luck in his love life and with work. He was happy for me to watch him as he prayed and set his offering alight. We spent a while talking about my trip, and he asked me questions about my boyfriend. I must have spent about 45 minutes with him by the time Jonny finally got back.
Looking back, this was my most interesting exchange with a local person and it really showed how the Bolivians still hold traditional beliefs. It made sense that he was making his offering to mother earth in view of the sacred Lake Titicaca, on the sacred mountain, since both places hold such spiritual importance.
However, it's fair to say that the best thing about Copacabana is its proximity to Isla del Sol, just an hour's boat ride away, where we visited one day…